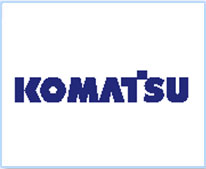 Komatsu Ltd., established in 1921, is a diversified provider of industrial-use products and services. While remaining an international leader in the field of construction and mining equipment, the Company engages in other business, such as industrial machinery and vehicles, logistics, electronics and other solutions-based operations. By upholding "Quality and Reliability" as the most important management policy, Komatsu is resolutely committed to providing safe, innovative products and services that best meet the needs and expectations of its customers around the world.
Apart from a number of manufacturing units in Japan, Komatsu has plants in the US, Canada, Mexico, Brazil, UK, Germany, Italy, Sweden, Norway, Russia, Indonesia, Thailand, China and India.
Komatsu, as one of the world's largest manufacturers of construction, mining and utility equipment, is proud to provide its customers with leading-edge technology and excellent after-market support, and the quality you can rely on.
Komatsu provides a wide array of construction and mining equipment, ranging from super-large machines capable of mining applications to mini units for urban use. The range also includes a huge variety of attachments, along with system products.
Other Products offered by Komatsu include Forest Machines, Forklift Trucks, Large Press System, Medium Sized and Small Presses, Sheet-metal Machinery, Machine Tools, Excimer Lasers and Temperature-Control Equipment.
FOR MORE DETAILS LOG IN TO: