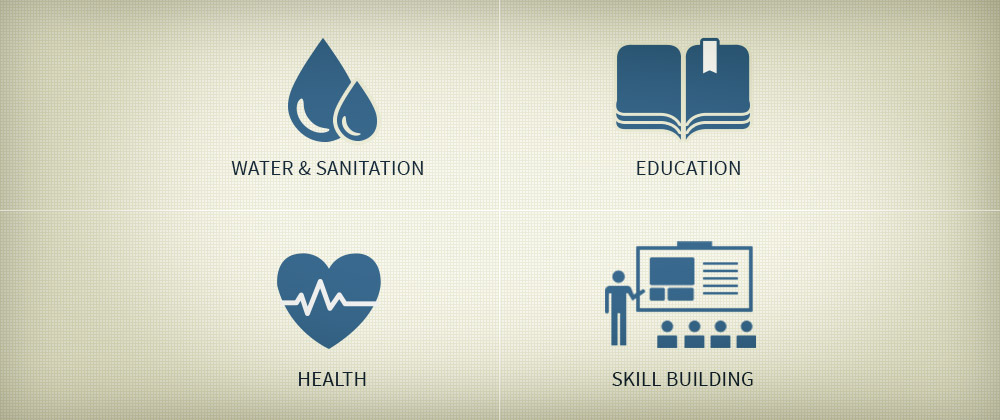 Social infrastructure is indispensable for progress; L&T, as India's leading builder of major infrastructure projects, is equally committed to developing projects that will contribute to the quality of life. This includes schools, hospitals, skill training institutes, water supply & distribution and sanitation facilities.
Building India's Social Infrastructure – Our Goals & Activities
Focusing on the many challenges around project implementation, we propose to work towards the following outcomes from our Social Infrastructure programmes, based on need assessment and feasibility.
Water & sanitation (availability of safe drinking water and proper sanitation facilities) and electrification of villages (off-grid renewables)
Education - Improved access to education (increased enrollment in pre-school, children attending neighborhood schools) and improving quality of learning (better school infrastructure, better teaching-learning process)
Health - Improved access to quality health care (expanding infrastructure of health centres, increased number of people accessing quality health care)
Skill building - Enhancing employability of youth (enhancing training capacity, improved infrastructure of skill development centres)


The following activities are proposed over the coming months to achieve the above goals:
Water & Sanitation
Provide integrated water management solutions which will include (building check dams, Rain Water Harvesting, making drinking water available close to village centre etc.)
Create awareness on good health and hygiene practices in schools, villages etc.
Providing toilet blocks in schools, communities and homes
Providing decentralized renewable energy solutions for communities
Education   
Repair / build Balwadi & Aanganwadi schools, classrooms, libraries, science laboratories, playgrounds, boundary walls etc.
Repair / build roads, provide transportation for children to reach school / Balwadi / Aanganwadi safely
Provide e-learning, digital facilities in schools
Create access and provide training to integrate the differently-abled children by ensuring building of disable friendly infrastructure
Health
Build health centres with essential facilities
Set up mobile clinics to provide healthcare at the doorstep
Equip the health centre / mobile medical unit / dialysis centre  with quality personnel, facilities and equipment
Awareness building camps with access to free screening
Enhance health services for adolescents
Strengthen primary health centres and equip them for pre & post natal care
Skill building
Expand skill development centres and provide support to youth and school drop-outs through other programs
Create credible certification and assessment system with industry participation
Develop qualified and experienced trainers
Set up vocational training institutes for women in smaller cities to enhance employable skills like nursing, sewing/weaving, beautician, pre-school teacher, food processing, childcare etc.
Support skills training for the differently-abled
Provide skills training in tool & die, painting, computer/ IT, automobile etc.
Build market connectivity